CMEOC Head Start Program provides a comprehensive health service program which includes a broad range of medical, dental, mental and nutrition services to pre-school children including those with disabilities.
The purpose of our comprehensive health service program is to promote and practice preventive and early intervention health services that will assist with each child's physical, emotional, cognitive and social development toward the overall goal of competence. All children enrolled must have a complete examination which includes visual and hearing screenings, identification of disabilities (if any), immunizations, and a dental examination. All children are observed by Tri-County Mental Health twice each year. Each year new children enrolled in the program are screened for speech/hearing/vision deficits and those determined to need therapy receive the services throughout the school year. As a part of health and nutrition, food is provided which helps meet the child's daily nutritional needs in a clean and pleasant environment.
Disabilities
The disabilities program serves children with identified disabilities. Each child is screened for speech, hearing, vision, language and other disabilities.
Once diagnosed they received therapy. This service is funded by the Department of Education through the Individuals with Disabilities Education Act (IDEA). The Department provides pre-school funding to Head Start programs that serve children with disabilities ages three to five years. The amount of funds received per year is based on the number of disability children enrolled December 1 of the previous year. The funds allocated are for the purpose of providing staff, services and supplies to children with diagnosed disabilities, i.e. vision screenings, speech therapy, occupational therapy, etc.
Children With Special Needs in Head Start
The Head Start program focuses on the child and family as individual program participants. When a child show delays during our screenings or concerns develop in the classroom, referrals to specialists will be recommended. No referrals will be made without parent or legal guardian written permission. Our teachers will assist families in this process.
Services Provided to the Special Needs Child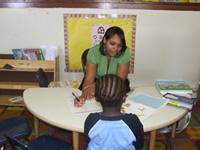 Head Start Provides the following types of services to children and their families with special needs:
An inclusive educational experience
Health and developmental screenings
Ongoing educational assessments
Parent involvement and education
Family Services
Health and Nutrition Services
A diagnostic evaluation
Individualized Education Plan
Other Special education services as needed
Activities that will assist your child's transition into Head Start, as well as out of Head Start into Kindergarten
Both Head Start and the local public school can work together cooperatively to combine the range of offered services to provide the best pre-school experience for a child with special needs.
Mental Health in Head Start
A child's social and emotional development is a very important part of growing up. The development of a child's self-concept (or self-esteem) is equally as important as the child's physical and intellectual development.
Mental Health begins with an understanding of who you are. Preschool children learn more and more about themselves on a daily basis as they interact with other children, adults and their environment. When children learn more about themselves at an early age, they are able to make more appropriate choices and decisions later in life. A part of each child's physical exam focuses on mental health. If a concern is noted, families will be referred to the appropriate professional for further services.
A mental health consultant is available to observe the children in the classroom setting during the year if a concern develops. Any specific concerns are discussed with the parents. Staff members are available to assist with any referrals to other community resources. The mental health consultant meets with the teaching and management staff during the year to discuss how each child's mental health needs are being met and about any concerns that are developing in the classroom.
Teaching activities and the classroom environment are set up to enhance a child's self-concept with the overall goal of developing social skills.